New Boston Won Two International Awards for Digital Campaign and Print Work
by Julie Fiedler on December 1, 2021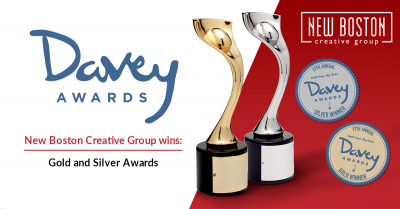 We love working with clients to help them reach more customers and share their messages in a meaningful way. Add repeat clients and award recognition to the mix and that sends us over the moon.
We've had the pleasure of working with Kansas Farm Bureau to reach their membership with Kansas Living Magazine, full of stories about local events, agriculture, food and more, as well as with the State Library of Kansas to produce videos, ads, brochures and other pieces to promote their services.
These projects were recently recognized with a Gold and Silver award respectively from the Davey Awards.
The Davey Awards honor the finest creative work from the best small marketing shops, firms and companies worldwide. David defeated the mighty Goliath with a big idea and a little rock. The Davey Awards honor the achievement of the "creative Davids" whose strength comes from big ideas rather than big budgets. Winners were selected from over 2,000 entries.
We're so grateful to get to work with these amazing clients and help them share their stories. If you've been thinking you'd like to take on some marketing initiatives of your own, we'd love to see how we can help. Check out our portfolio for more examples of our work and contact us to let us know how we can be of service to your business or organization!
---