In 2018, Abilene Machine — a retailer and manufacturer of replacement parts for farm equipment — hired NBCG to evaluate their digital presence and branded materials to help them develop a more cohesive and consistent digital marketing strategy, increase sales and enhance the lifetime value of their customer relationships.
We performed a deep dive into their digital properties, including their website, organic search performance and social media presence, and organized our findings into prioritized recommendations.
After our initial engagement, NBCG continued to work with Abilene Machine, effectively serving as an extension of their marketing team to help them implement our recommendations and consult on other priorities as they arose.
GRAPHIC DESIGN AND BRANDING
When NBCG first started working with Abilene Machine, they had recently redesigned their logo. Building off the design, NBCG developed a creative suite of primary and secondary brand colors, fonts, textures and templates.
Using those design elements, NBCG has produced a variety of print and digital materials including a brochure that reinvented their traditional parts catalog format, product one-sheets, ads and email templates. To help them launch a new division focused on their wholesale industry, NBCG developed a rollout strategy, created a logo and branding concept that was both distinct from and compatible with the retail brand, and created a series of print and email communications. NBCG also coordinated a photo shoot to create a library of visual assets that would authentically showcase the high quality and wide variety of their product lines.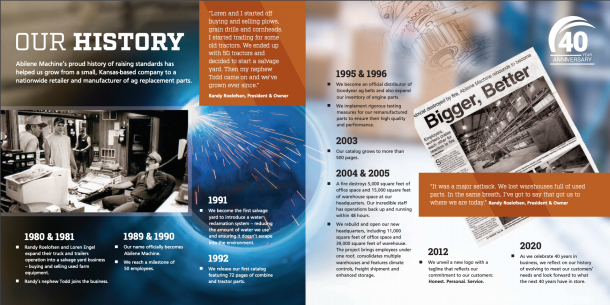 VIDEO PRODUCTION
Abilene Machine wanted to augment their content library with relevant videos to attract customers in an engaging way. NBCG collaborated with them to identify their goals for video content and produced a series of videos to use as short- and long-form digital ads and in-depth product features.
DIGITAL MARKETING
NBCG supports an ongoing digital marketing strategy to increase awareness of the brand, attract new customers and engage existing customers. Working collaboratively with Abilene Machine's marketing team, NBCG continues to consult on strategy and implement tactics including video and display advertising on social media and YouTube; email newsletter content, branding and technological support; and targeted campaign messaging.
Awards
Davey Award (Silver)
Golden ARC (Merit Award)