New Boston Won a Gold Award for Content and Design Work in the Healthcare Industry
by Julie Fiedler on July 12, 2021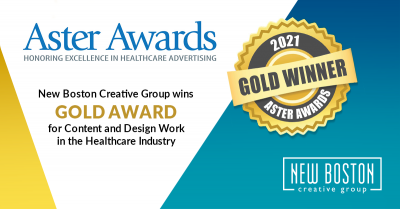 Olympians have their gold medals and occasionally we marketers get them, too. Just like athletes swell with pride as they stand on the coveted podium, national anthem playing, tears of joy welling up, we marketers feel pretty proud to be recognized for our work on behalf of some pretty awesome clients (minus the patriotic music).
While we don't have an actual medal to bite for a crowd of photographers, we do have some great news to share that a content and design project we worked on for Meadowlark was recognized with a Gold Award from the Aster Awards.
I had the pleasure of working on this project — a series of targeted informational handouts for faith leaders — and continue to be impressed by the knowledge, expertise, care and compassion Meadowlark has for the community. I'm glad we were able to showcase some of the amazing work they're doing and the award is icing on the cake.
The Aster Awards is one of the largest and most respected international competitions for marketing and advertising in the healthcare industry. This elite program has recognized organizations for outstanding work for over 20 years. Judging criteria included creativity, layout and design, functionality, message effectiveness, production quality and overall appeal and execution. Winners were recognized as those in the top of the nation for advertising excellence.
If you've been doing great work and need someone to help tell your story, please reach out. We'd love to see how we can help. Check out our portfolio for more examples of our work and contact us to let us know how we can be of service to you!
---