As a business owner and through her extensive community involvement — including her time serving as chair of the Manhattan Area Chamber of Commerce Board of Directors — our own Kristin Brighton was highly aware of the serious workforce shortage Kansas is dealing with. The need for skilled workers has reached a crisis point, and to help combat the shortage, Kristin and the NBCG team created HirePaths. This statewide educational campaign seeks to inform and excite parents about options their child can pursue after high school to quickly and affordably launch a well-paying, in-demand career. Parents are a child's first career counselors, so HirePaths gives them lots of information about great careers, educational options and resources to help them have conversations with their kids about what their future career journeys might be.
To finance the project, the NBCG team brought together industry stakeholders like investors Stormont Vail Health, Textron Aviation and the Kansas Contractors Association. HirePaths has also received funding from the Kansas State Department of Education to expand and continue the mission.
HirePaths officially launched in February 2021 with an extensive social media campaign and website. In its first year, the social media campaign reached more than 1.3 million individuals and earned more than 12.4 million impressions. In that same timeframe, the HirePaths website attracted over 28,900 unique visitors and over 33,700 website sessions. Website traffic nearly doubled from the second quarter to the third, a sign that our campaign is resonating with and reaching our target audience.
Website
The New Boston team created a website where parents and children can easily explore career options, learn about high-demand jobs in Kansas, research salary and recommended education for different careers, read informative blogs and browse over 70 profiles telling the stories of successful young people from all educational backgrounds across Kansas, many with very interesting career journeys. We work with our investors to create Featured Employer pages for each of them, highlighting their open job opportunities, showing why they're a great place to work and more.
We're constantly expanding the website with new content and making changes to be as engaging and easy to navigate as possible.
SOCIAL MEDIA
To identify the best way to reach our target audience — parents in Kansas ages 25 - 55 — we considered behavioral patterns, social media usage trends and more. The strategy is a mix of organic (unpaid) and paid efforts. Our goal is to post organically on each platform at least three times a week. On the paid side, we're constantly running a mix of ads on all platforms. 
Since our target demographic most heavily uses Facebook, we designated a large percentage of the budget to that platform. To reach as many people as possible, though, the campaign for our target audience also includes efforts on Twitter, Instagram and YouTube. 
Our secondary audience for the social media campaign is teachers. Since educators have a heavy influence on the aspirations of their students and often interact with parents, we've added paid and unpaid efforts on LinkedIn in addition to the platforms mentioned above.
We consistently monitor campaign performance across platforms and implement budget and creative tweaks to improve results. We determine which ads perform best on specific platforms, which ads drive the most website traffic, which platforms lead to the lowest website bounce rate and more.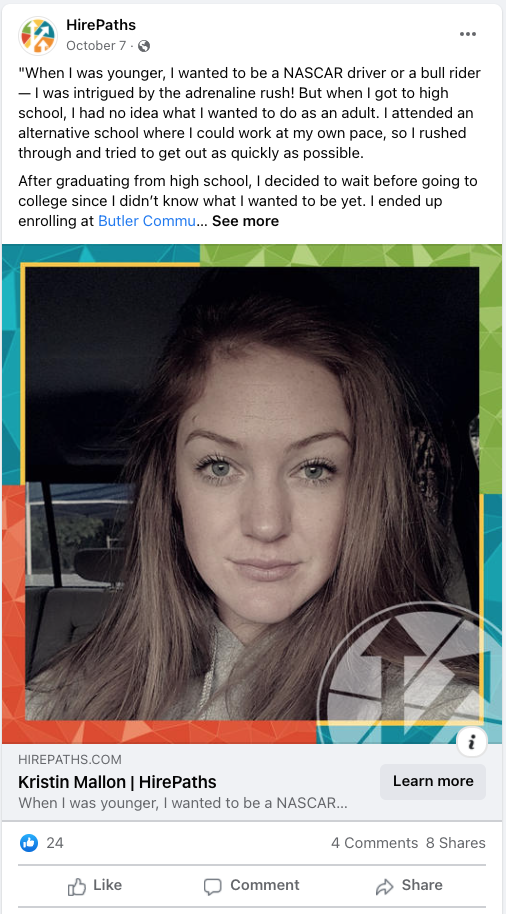 ENVIRONMENTAL
Many partners across the state are sharing the resources HirePaths has to offer. Investors and others display banner stands at conferences and meetings to spread the word. In addition, billboards across the state have garnered much attention and have likely reached new members of our target audience and increased traffic to the website.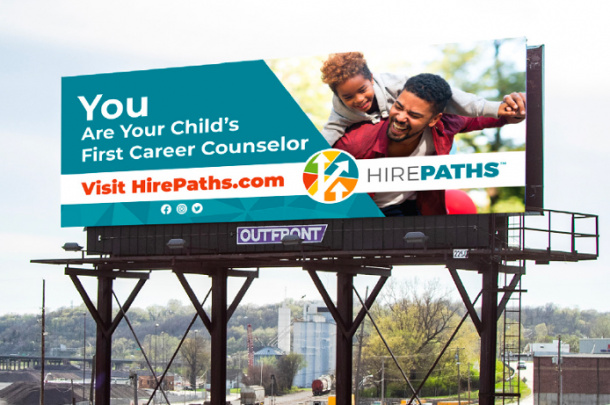 VIDEO
With the help of funding from the Kansas State Department of Education, NBCG has written and produced three Cool Careers videos for HirePaths with plans for at least ten more. Each video features a Kansas child who hosts the show and interviews professionals in interesting careers that young people can enter with on-the-job training, an apprenticeship, postsecondary training or other pathways.