Kansas State University: Website Refresh
New Boston Creative Group worked with a number of colleges and units at Kansas State University to complete website migration projects when K-State adopted fresh, new design templates for the entire university, with an overall goal to increase student enrollment. 
Each unit needed an updated version of their then-current website. We collaborated with K-State team members to implement the new design, reorganize and scrub content, rethink the navigation and improve search engine optimization (SEO). We were proud to be of service to: 
Kansas State University College of Architecture, Planning and Design
Kansas State University College of Arts and Sciences
Kansas State University Global Food Systems 
Kansas State University Graduate School
Kansas State University Olathe campus
Kansas State University Veterinary Diagnostic Laboratory
Kansas State University Veterinary Health Center
Kansas State University Office of the Vice President for Research
Website Development
New Boston created detailed wireframes, sitemaps and landing page outlines for each program. These sitemaps and outlines ensured maximize usability, accessibility and adherence to Kansas State University guidelines.
To refresh the website design, we worked within the existing website CMS to implement the new templates provided by K-State. We ensured all added code was compatible with university standards and protocols. We made sure all designs and elements were mobile friendly and would properly rescale for use on multiple screen sizes and devices like smartphones, iPads, tablets and others.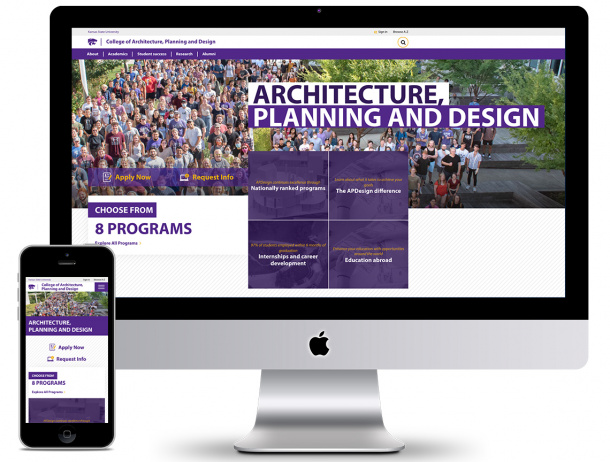 Content and Search Engine Optimization
New Boston provided guidance for main navigation page content and helped implement proper SEO best practices. We worked with the team from each unit to set up a plan and timeline to collect and edit homepage and landing page content. This process included assisting in editing website content provided by each unit and making tweaks to adhere to SEO best practices. Improving SEO can help websites be found more easily by users searching for a certain key word or phrase, so it was a priority to do everything we could to ensure the K-State college or office ranks well on a search engine results page.