Why Testimonials Matter for Your Business
by Addie Justus on February 22, 2023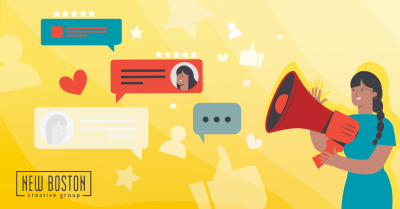 We all know that tooting your own horn is frowned upon. But having someone else toot your horn? Now, that's a party! And it can go a long way in promoting your business.
We always stress to our clients how important it is to ask customers for good reviews. Whether someone raves about your speedy service on Facebook or writes an ode to your delightful demeanor on Google, those sentiments go a long way — not just towards stroking your ego, but towards building future business, too. Here are a few key reasons why glowing testimonials matter.
Testimonials Help People Find You
The first thing most people do when looking for a product or service is to search for it online. Since the most used search engine is Google, your Google Business Profile is incredibly important. The more reviews — i.e., testimonials — your listing has, the more legitimate Google's algorithm will deem you to be, and legitimacy = higher page rankings. In non-gibberish, this means that the more positive reviews you have, the more likely you are to show up as a result when someone searches for your product or service offering.
Including testimonials on your website is another way to encourage Google and other search engines to show you as a top result. These algorithms do their best to churn out useful info to the people searching, so they scrub thousands of websites to see if anything matches what the user was searching for. For example, if someone searches "best restaurant in Manhattan, Kansas," and your website includes testimonials that say "this was the best restaurant I've ever been to in Manhattan, Kansas," ba-da-bing-ba-da-boom! Your website is way more likely to be served up on Google's silver platter.
Looking to learn more about search engine optimization (SEO)? Read How to Get Your Website Found on Google.
Testimonials Help People Trust You
As potential customers are doing their research, you want them to picture themselves having the incredible experience you know you can give them. The most powerful way for that to happen is for them to hear from their peers. When people read how stellar your service or product is, they'll start to imagine themselves reaping the same benefits. Nothing is more powerful than word of mouth, and this secondhand version goes a long way towards building trust.
Testimonials Help People Return to You
Imagine: You help a customer and they're over the moon with satisfaction. You ask them to write you a testimonial. As they type, they reflect on the marvelous experience, top-notch service and friendly people at your company. The more they write, the more they're reminded of what a pleasure it was to chow down on your spaghetti, send their child to your daycare — or whatever it is that you do. During this reflection process, they convince themselves to go back, and a repeat customer is born.
Testimonials…Can Be Hard to Ask For
We know! But there's no need to feel uncomfortable when asking. In fact, we have five easy steps to help you round up some stellar testimonials.
Your business is awesome. You know it. We know it. Now it's time to get out there and tell the world!
Looking for help with other aspects of your business, like a shiny new website or eye-catching logo? Reach out! We can't wait to chat.
---