New Boston Won Three Awards for Print and Web Design Work
by Julie Fiedler on May 22, 2022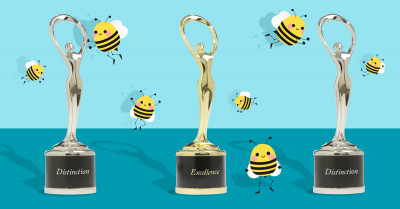 We love helping organizations put their best foot forward by coming up with creative solutions for print and digital to help them stand out. When we get our own kudos for the work we do, well, that's just the bee's knees. We're delighted to share the buzz that we were recognized with three awards from the Communicator Awards, the leading international creative awards program honoring excellence for marketing and communications professionals.
For print design, we received an Award of Excellence for the design of the 2021 fall edition of Kansas Farm Bureau's Kansas Living magazine and an Award of Distinction for the design of a tourism brochure for the Abilene Convention and Visitors Bureau.
For website design, we received an Award of Distinction for makeitzing.com.
Founded nearly three decades ago, The Communicator Awards are an annual competition honoring the best in advertising, corporate communications, public relations and identity work for print, video, interactive and audio. The 28th Annual Communicator Awards received over 4,000 entries.
If you've been thinking it might be time to get some eye-catching marketing materials out in the world or refresh your branding or website, we'd love to see how we can help. Check out our portfolio for more examples of our work and contact us to let us know how we can be of service to your business or organization!
---