New Boston Won International Awards for Content and Print Work
by Julie Fiedler on July 28, 2020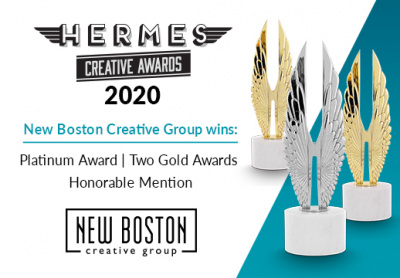 Throughout Kansas, farmers and agricultural organizations do some incredible work to feed the nation and care for its land and animals. We think they do some amazing things and it's our honor and pleasure to help tell their stories and advance their missions.
We're delighted to share that some recent work for the agriculture industry received international recognition from the Hermes Creative Awards. We won a Platinum and Gold Award for content work showcasing Kansas farmers for Kansas Farm Food Connection, and a Gold Award for publication design for Kansas Farm Bureau's Kansas Living Magazine.
And with all of the attention on essential personnel lately, we were honored to help shine a light on a local organization doing great work with older adults: Meadowlark. We also received an Honorable Mention for a video showing their life-changing programs.
The Hermes Creative Awards honor creative professionals involved in the concept, writing, and design of traditional and emerging media. Hermes Creative Awards recognize outstanding work on traditional and digital platforms. Competition judges evaluate the creative industry's best publications, branding collateral, websites, videos, and advertising, marketing and communication programs.
If you're looking for innovative, creative ways to reach your customers or grow your business, we'd love the opportunity to discuss your goals. Great messaging, design and marketing tactics are our passion. Check out our portfolio for more examples of our work and contact us to let us know how we can be of service to your business or organization!
---