New Boston Won Two International Marketing Awards
by Julie Fiedler on November 19, 2019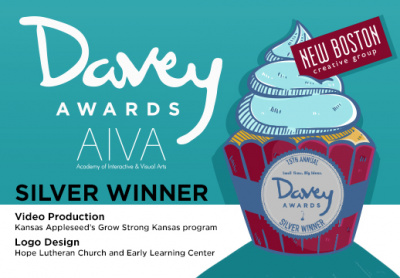 There are a lot of rewards in the work we do: Helping great organizations stand out and achieve their goals is chief among them. Winning an award for the work we do is icing on the cake. So, if you'll forgive us for a moment while we brag (just a little)… We were thrilled to be honored with two Davey Awards in 2019!
The Davey Awards is an international recognition that honors outstanding creative work from the best small companies worldwide. David defeated the mighty Goliath with a big idea and a little rock. The Davey Awards honor the achievement of the "creative Davids" whose strength comes from ideas, intelligence and out-of-the-box thinking, not a "giant's" bankroll. The Davey Awards recognize exceptional work carried out with a small budget.
We earned two Silver Awards for video production (Kansas Appleseed's Grow Strong Kansas program) and logo design (Hope Lutheran Church and Early Learning Center).
The icing on the cake was winning the awards, but the real dessert is the cake itself — helping these great organizations stand out and share their messages. How can we help you build success?
---