New Boston Won Two Awards for Video Work in the Healthcare Industry
by Julie Fiedler on July 7, 2020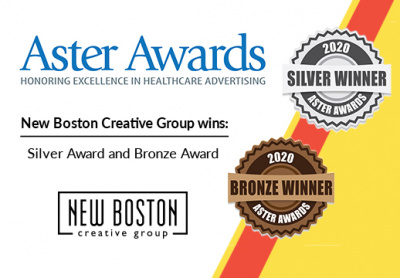 We're proud to help tell the stories of some outstanding healthcare providers doing amazing work. It's an honor to help showcase their efforts. When our efforts are recognized with awards for excellence, well, that just makes us even prouder.
So, please forgive our humble-brag for a moment as we share the news that we received two awards for video production: a Silver Award featuring Meadowlark's programs and living options for older adults and a Bronze Award promoting Kansas State University's Johnson Cancer Research Center.
The Aster Awards, now in its 19th year, is an elite program recognizing outstanding advertising/marketing efforts in the healthcare industry. Judging criteria includes creativity, message effectiveness, production quality and overall appeal and execution. Winners were recognized as those in the top of the nation for advertising excellence.
If you've been doing great work and need someone to help tell your story, please reach out. We'd love to see how we can help. Check out our portfolio for more examples of our work and contact us to let us know how we can be of service to you!
---