Getting Started with Google Analytics 4
by Julie Fiedler on August 1, 2022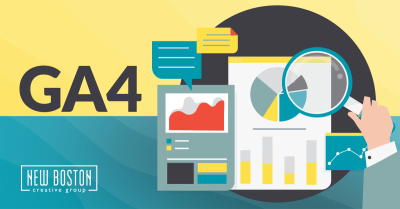 Extra, extra! Read all about it! The latest in digital metrics news is here and it's a doozy: Google is changing the way it handles data collection and reporting. The gold standard of measurement, Google Analytics has helped companies around the world track and improve performance. And Google Analytics as you know it (aka Universal Analytics or UA) is sunsetting. A new era in measurement is dawning and it's called Google Analytics 4 (GA4). What's the hullabaloo?
The interface is substantially different. UA has a variety of charts and tables that can be toggled to explore key metrics. GA4 relies on pre-built cards to display key metrics. If you enjoy digging into data, you might get frustrated trying to find certain metrics in GA4. If you like having a menu of modules, you might find the new format more user friendly.
Google has also changed how it defines and measures certain data points, representing a shift in philosophy. It describes the change as going from session-based data (what happens during each website visit) to event-based data (what users do on your website or app). And, yes, capturing data from both websites and apps is part of the new functionality.
What does all this mean for you? If you rely on data to make decisions for your business (and you should), here are three things to help you prepare for the change.
1. Set up your GA4 property in Analytics now.
The sooner you do this, the better off you'll be down the line. UA will stop collecting new data next year (July 1, 2023, to be precise). While that may seem like a long way off, it will be here before you know it. By setting up a GA4 property now, you can collect data in both formats. This means you can continue working in UA, start learning GA4 and collect GA4 data in the background to use for historical comparisons down the line. So, do your future self a favor and create your GA4 property today. (Tomorrow's ok, too.)
How to set up GA4:
Go to the Admin settings for your account.
Under Properties, select GA4 Setup Assistant.
Under I Want to Set Up a New Google Analytics 4 Property, select Get Started. The wizard will walk you through the setup process. The next steps depend on your website configuration, so you may need to work with your web developer to implement code on your website.
Click Create Property. Once you create the property, you should see it in analytics. However, until the code is live on your website, it won't be collecting data.
Find Step-by-step Instructions
2. Take GA4 tutorials.
Google offers free online training through its learning portal Skillshop. There are quite a few self-paced modules to work through, including an overview of the changes and more detail on navigating the new format.
If you're new to Google Analytics, don't worry about learning UA. Instead, focus on GA4. That way, you'll start with a clean slate and won't have to learn and unlearn UA. You'll likely have a smoother transition than folks who are having to get accustomed to a new format and become the resident expert. Just think of the accolades you'll get! Again, your future self will be grateful.
3. Pay attention to the definitions.
In addition to navigating the new report structures, you'll need to become familiar with changes to various metrics. Certain metrics use the same term across the two systems but are defined differently. For example, "users" in UA is the total number of website visitors. In GA4, "users" are website visitors who have been active in the past 28 days. It's a subtle change, but an important one.
Another common metric in UA is bounce rate (the percentage of people who come to your website and leave without visiting another page), which is used to measure engagement. It's going away. A new metric called "engagement rate" is being introduced. This measures the percentage of visitors who spend at least 10 seconds on your page, have a conversion or view at least two pages. So, even if they only view one page, GA4 will capture their engagement. (I'm particularly excited about this change. Bounce rate is an imperfect metric and, especially for websites that get a lot of traffic from social media, can often be inflated. This new metric will be a better indicator of user interest.) So, when your boss asks about bounce rate and you can clearly explain the new metric, it will be yet another win for future you.
There's obviously way more to know than these basics. Consider this your first orientation and look for more detail rolling out in the months ahead. And if you'd like to get a jump start on what this can mean for your business, get in touch. We'll be glad to put some digital experts on the case.
---