Humor Defines NBCG's 2022 Favorite National Campaigns
by Kristin Brighton on June 1, 2022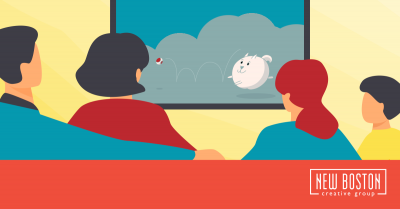 My family cut the cord a decade ago. Therefore, given my profession, I must periodically make time to research what the national brands are doing to stay on top of trends. To see what's watercooler-worthy, I asked our team at New Boston to send me their current favorite campaigns — and they delivered!
Humor is definitely at the core of the commercials we love in 2022. Whether this heavy reliance on humor is reflective of people's desire to escape the craziness of this moment in time or if it takes zany, over-the-top behavior to capture the public's attention right now, humor is definitely the technique many brands are leaning into currently. 
And while this collection of commercials might seem like fun and games, humor is way more difficult to get just right than using techniques than traditional appeals to a consumer's reason, sentimentality, nostalgia, or heartstrings. If you miss the mark, humor can belittle or offend your audience — or just plain tank and cause eyes to roll. Choosing to be funny can be a gamble — but when it works, it definitely pays!  
Hats off to these campaigns for finding just the right balance, and to my co-workers for suggesting them. If you'd like our team to put our collective creative genius to work for your business, please reach out!
Shawn: Uber Don't Eats
If it was delivered with Uber Eats, does it mean I can eats it? Shawn suggested that I check out this campaign because "it certainly does a good job of tackling the issue of the name." When a company expands its services and outgrows its original name, it is always tempting to rename and rebrand — but to do so can mean risking already-gained market share and brand awareness. When Uber Eats decided to expand to delivering non-food items, its agency (Special U.S.) had to figure out how to overcome the limiting factor of the brand's name. Throwing in cameos by A-list celebrities eating non-food items could be a bit dicey, but the absurdity of the whole thing keeps your attention. Not sure this concept will work long-term, but for the moment it's definitely an in-your-face attempt to get people to notice something new.
Julie: Amazon's Big Game Commercial 'Mind Reader'
Any time advertisers try to portray real-life celebrity couples and how they act when they're their being their authentic selves, people tend to tune in. Amazon cast couple Scarlett Johansson and Colin Jost for its SuperBowl commercial to promote its Alexa Assistant, with the premise of what could go wrong if Alexa could read minds? Scarlett and Colin's experiences feed off that sensation we all can relate to that Big Data knows a little too much about what's going on in our daily lives. (I'd spit out those oysters, too!)
Julie loved this spot because it points out that while consumers demand more and more from new product innovations, sometimes technology teeters on crossing the line of personal comfort. "By taking a good thing — the premise of having technology read your mind to make life easier — a step too far, this commercial shows Alexa is perfect just the way she is."
Lisa and Ali: Dr. Rick Series for Progressive
Lisa was the first to reply to my request, immediately proclaiming that "Progressive's Dr. Rick campaign is awesome and they are the only ads I turns the sound on for." (If you know Lisa, that's huge!) In all, three different New Bostonians suggested this series to me, so it must be memorable. So what's the appeal? I mean, seriously: Do we mid-lifers like this series because we relate to both the nostalgia of memories of our parents AND the awkward sensation experienced when we hear their words coming out of our mouths? (I still need to contemplate.)
Whatever is behind its lasting connection, Dr. Rick seems to be keeping Progressive top-of-mind. Learn more about Introjection (the phenomenon of people absorbing the attitudes and values of the people we spend the most time with) and the story behind the genesis for Dr. Rick.)
Ali added that insurance companies are "really bringing their A-game" now, also giving kudos to the increasing hilarity of insurance ads over recent years, including Geico Caveman Campaign,  the Jake from State Farm series, and Liberty Mutual's LiMu Emu "and Doug".
Susan: E*TRADE Baby Commercials
While the original (and, according to Susan, better) E*TRADE spots came out more than a decade ago, when wanting to celebrate the acquisition of E*TRADE by Morgan Stanley, their agency (MullenLowe New York) brought the baby back "one more time" out of retirement to capitalize on the earlier campaign's legions of die-hard fans (like Susan) who might not have otherwise paid attention. Was this a brilliant way to promote an acquisition of one beloved brand by another? IMO, it works.
"My family and I were just talking about the E*TRADE baby commercials the other day," Susan said. "Someone had quoted 'it's frowned upon in this establishment' about something ordinary and it got us reminiscing about them again. Like we were still talking about them from 2013! But I had no idea they'd recently brought the baby back."
A Few Other Notables…
In addition to these suggestions from our team, wanted to highlight my favorite 2022 Super Bowl campaigns. As you will be able to tell, I'm a sucker for a spot that is jam-packed with celebrities, has a Hollywood budget and special effects, and doesn't take itself too seriously.
Zeus and Hera (Director's Cut Version) — BMW's promotion of its new, all-electric BMW models features Arnold Schwarzenegger and Salma Hayek Pinault as the Greek God of Lightning Zeus and his wife, the Goddess Hera. The premise is it's time for the legendary couple to retire to a quiet life in Palm Springs, California (where else?), with Peggy (their adorable Pegasus). Zeus, however, struggles to completely let go of his powerful ways. Directed by filmmaker Bryan Buckley. (I prefer this 2 min, director's cut over the version that ran on air.)
Nissan Thrill Driver — I'm a Schitt's Creek fan, so Nissan's spoof on the action movie blockbuster featuring a ton of celebrity cameos, sweet rides, car chases, explosions AND a rocked-out Eugene Levy was custom-made to delight folks like me and reinforce Nissan's skyrocketing brand reputation with American audiences. The commercial was the center of a 360-degree ecosystem of content that came out around the Super Bowl in February, similar to how major Hollywood studios tease out major action films. Directed by filmmaker Craig Gillespie. 
---