New Boston Won an International Award for Video Work
by Julie Fiedler on May 6, 2021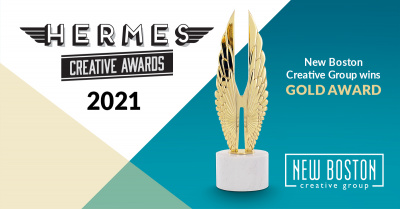 We work with some amazing organizations across the state and it's always a treat when we get to work with repeat clients. It's a real love fest! When the love expands to include award recognition for that work, well, we fall even more head over heels.
We've had the pleasure of working with the Kansas Energy Program, an office of K-State Engineering Extension, on several initiatives over the years and our latest — a video to help them get the word out about their energy program for Kansas schools — was recently recognized with a Gold Award from the Hermes Creative Awards. 
The Hermes Creative Awards honor creative professionals whose talent exceeds a high standard of excellence and whose work serves as a benchmark for the creative industry. Hermes Creative Awards recognize outstanding work on traditional and digital platforms. Competition judges evaluate the creative industry's best publications, branding collateral, websites and videos as well as advertising, marketing and communication programs.
We're so grateful to the Kansas Energy Program for choosing New Boston and for their creative collaboration. If you've been thinking it might be time to tackle some of your own marketing initiatives, we'd love to see how we can help. Check out our portfolio for more examples of our work and contact us to let us know how we can be of service to your business or organization!
---