New Boston Won an International Award for Content Work
by Julie Fiedler on April 28, 2021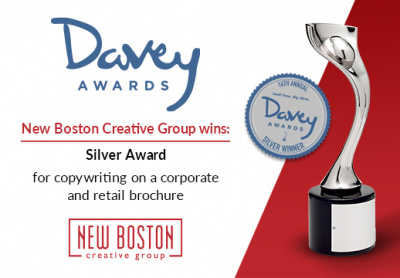 One of the best parts of what we do is helping outstanding businesses stand out. Collaborating with clients to reimagine their messaging is incredibly rewarding. And it's even more rewarding when we get recognized for our efforts.
We're delighted to share that some recent work produced for Abilene Machine received international recognition from the Davey Awards. We won a Silver Award for copywriting on a corporate and retail brochure.
The Davey Awards honor the finest creative work from the best small shops, firms, and companies worldwide. David defeated the mighty Goliath with a big idea and a little rock. The Davey Awards honor the achievement of the "creative Davids" whose strength comes from big ideas rather than big budgets. Winners were selected from nearly 2,000 entries.
If you're looking for innovative, creative ways to reach your customers or grow your business, we'd love the opportunity to discuss your goals. Great messaging, design and marketing tactics are our passion. Check out our portfolio for more examples of our work and contact us to let us know how we can be of service to your business or organization!
---