New Boston Won a Collegiate Advertising Award
by Julie Fiedler on June 17, 2020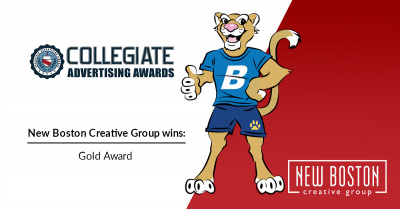 As educational institutions were switching gears and shifting to online learning in March, we got word that we won an award for our work helping Barton Community College promote its virtual campus, BARTonline.
We're proud to be recognized with a Gold Award from the Collegiate Advertising Awards for our design work on a cartoon of Barton Community College's "Bart" cougar mascot.
The Collegiate Advertising Awards is an elite, national program recognizing higher education organizations for excellence in communications, marketing, advertising and promotions of their schools. The program received entries from the United States and Canada, which were reviewed by a national panel of industry experts. Judging criteria included creativity, layout and design, functionality, message effectiveness, production quality and overall appeal.
We love collaborating with Barton Community College to find inventive ways to incorporate "Bart" in their paid and organic promotions. He's become a beloved character around our office as he embodies the many facets of Barton students in their personal and professional lives.
See more of our work and please let us know how we can help promote your services!
---