Insights from the Google Marketing Next 2017 Keynote
by Julie Fiedler on May 23, 2017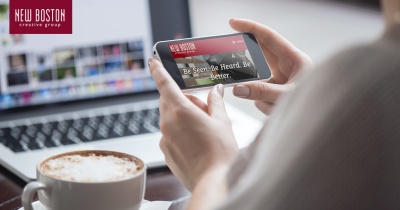 Andi and I watched the live stream of "Google Ads, Analytics and DoubleClick Announcements Keynote" as key team members from across Google's products talked about upcoming products and enhancements to help businesses and marketers interact with their audiences more effectively.
It's almost like a rock concert for marketers. Applause and excitement broke out each time a cool new product "came on stage." Product reveals aside, there were a lot of insights about current marketing trends and behaviors. Here are a few of my favorites from the live stream.
Give, Not Get
Yes, businesses want loyalty. But to gain a customer's loyalty, you need to give them something first. Namely, you need to give them helpful information in a "frictionless" environment.
Research shows that providing helpful experiences, whether in content or ads, makes customers more likely to make a purchase or recommend a product or service. The catch? Less than one-third of consumers describe their experiences as helpful.
Yikes. So, think about what your customers need or want to know and gear your content to that. Which takes us to…
Be in the Moment
No, this isn't a Zen statement. Perhaps you've heard of micro-moments, those instances in everyday life where someone has a question and turns to search for help. In fact, 87 percent of people turn to search before any other source for help.
If you can provide value in a micro-moment, a user is more likely to recall your brand and return to your website, store, social media page, YouTube channel, etc. And, yes, advertising counts as a value proposition. How do we know? Because 91 percent of people were influenced in their purchases after seeing relevant ads.
Will a single ad yield results? Probably not. Remember, a micro-moment is one small step in a customer's decision-making process. But it's critical to be there for those moments because they will remember a positive experience.
They will also remember negative experiences. Google shared that 79 percent of dissatisfied customers won't come back. And if your mobile experience is lackluster, that can hurt you, too. For every second your mobile page takes to load, customer conversions can fall by 20 percent. Time is money. Too much time = not much money.
Your _____ Isn't Enough
You need more than a website, more than a Facebook page, more than a store. You need all of these things working together seamlessly. Why?
Because customers today are channel-blind. They no longer separate out a company's website from its Facebook page from its brick and mortar storefront (or whatever channels it may have).
The customer experiences all of these in concert with one another. While digital interactions account for the vast majority of engagements, the expectations set there must also translate to an in-person visit or phone call. (Remember being helpful above?)
As Bhanu Narasimhan, Director of Audience Products, pointed out, the path to make a purchase doesn't start and stop with a single search. Consumers are savvy shoppers and do a lot of research before making a decision. And that research may include online searches, watching videos, engaging with ads, checking out a social media page. Each of those micro-interactions matters and each must continue the company's story in a holistic, seamless way, and with a flawless user experience.
Events like this keynote remind me not just of the theory behind what New Boston does, but also the proof—data and statistics, baby! Like Google, our goal is to help businesses interact with their audiences more effectively. When I get a chance to translate theory into practice and then see results for my clients? That's golden.
(Now, I just need to go check out all of Google's cool new tools!)
Quotables from Sridhar Ramaswamy, Senior Vice President of Ads & Commerce
Before I go, here are two of my favorite thoughts from the keynote:
"Put the consumer at the heart of your strategy."
"Together we can partner to surprise and delight customers in new and exciting ways."
I love these because so often we concern ourselves with telling customers what we want them to know. By keeping their intent first in our minds, we can truly talk to them about what they need. And delivering helpful information in a positive, unexpected way? That's icing on the cake.
To see more, follow us on Twitter @newbostoncg or check out everyone's comments by searching #GoogleMarketingNext.
---