Why You Need Video in 2017
by Julie Fiedler on February 10, 2017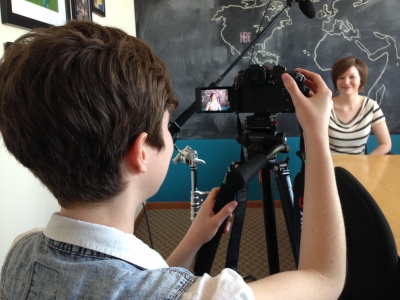 Video is everywhere. Whether it's cropping up in your Facebook feed or you're searching for a clip from a TV show you missed, chances are you're one of the billions of users who are turning to video content daily. Sure, it's entertaining. But is it really a way to market your business? Absolutely.
It's easy to think, "But, I don't watch that much video…" I fall into that trap myself, which is one reason I love data—especially data that can help me (and, by extension, help you) make smart, strategic decisions. So, let's take a look at some key data points and how they can help you create an effective video marketing strategy.
Videos Drive Purchases
Google reported that 68% of users watched YouTube videos to help them make a purchase decision. Plus, nearly half of internet users will search for videos related to a product or service before visiting a store.
That means if your business doesn't have an online video presence, then you're missing out on the opportunity to get your brand in front of potential customers. It also means that if you have an online video presence, but suspect your video isn't the greatest—well, then, your efforts might be working against you.
Videos vs. TV Commercials
It's very easy to think of videos in terms of TV spots, but "how-to" content is one of the top four categories of videos streamed on YouTube. Plus, people who watch demo videos are almost twice as likely to buy a product than those who don't watch those videos. (And they can't watch your demo video if you don't make one!)
If you think your money is better spent on a TV commercial, consider this:
Users who watch YouTube videos on a mobile device are twice as likely to pay close attention to the video they're watching than those who watch TV pay attention to the TV while watching it. (I know, that one's a tongue twister. The easy translation is: YouTube on mobile=focused audience. TV watchers=distracted audience.)
Plus, you don't have the ability to target specific audiences with TV ads. You just get whoever is watching (or not watching, as pointed out above).
Don't get us wrong, there is certainly a time and place for TV commercials. And we have recommended TV to our clients with great results. But there's got to be a spot in your marketing strategy for digital video, too. I mean, less money and specific audience targeting? Yes, please.
Videos Aren't Just for Kids
If you think digital video is only for Millennials, consider that users from Generation X watch 1.5 billion videos on YouTube daily. And, if you want to dismiss that as a statistic driven by a handful of super users, hold your horses. YouTube videos reach 95% of online adults age 35+ every month.
And those aren't just any users. High-level executives press play more often than you might realize. Nearly 60% of executives said that if a topic had both text and video, they would be more likely to watch the video. Not only that, but more than half of senior executives share videos related to work with their colleagues every week. So, the next time you catch yourself thinking the internet is just for cat videos, think again. Key decision-makers turn to video time after time.
Videos Are Everywhere
So are the eyeballs. Marrying the platform with your target audience is key. Consider these numbers:
10 billion: The number of videos watched on Snapchat every day
82%: The percentage of users who watch videos on Twitter
8 billion: The number of video views on Facebook each day across its 1.23 billion active daily users
And those numbers keep growing. It's estimated that 74% of online traffic will be driven by video content this year.
Tie It All Together
Congratulations! You've survived reading a bunch of statistics! Now what?
Now it's time to put all that information to work for you. Who are you trying to reach? (This will tell you where you should be marketing.) What do you want them to know about your business? (This will help you determine the types of videos and messaging you should be focusing on.) How can you best engage your audience with your content? (This is where you'll want to call us. We have experts who can take all the thoughts rolling around in your head and turn them into an effective video campaign.)
Here's how we can help you:
Intrigued? Give us a call or drop us a line to learn more.
---