Live (Kind of) from Digital Summit Denver
by Julie Fiedler on June 27, 2016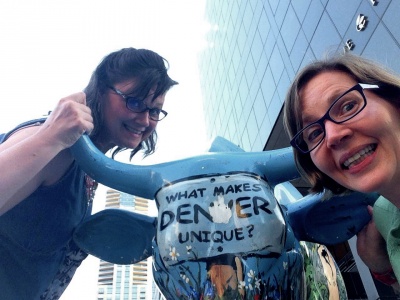 SEO tactics and tools, Facebook native video, meaningful content planning—the Digital Summit Denver agenda has been a digital marketing nerd's dream. More than just marketing companies, attendees are from all types of organizations and industries who recognize how important digital is to marketing, but aren't sure what to do next. That's something New Boston has been helping clients with for years and it's refreshing to be amongst our tribe, to embrace our inner digital marketing nerdiness, and talk shop. It's been inspiring, validating, and completely energizing to see and share what's working in the digital realm.
And it's only been Day 1.
The Trip
Like with every adventure, we stepped away from the everyday. We packed our bags and hit the road. Great conversation, thought-provoking podcasts, and the rebel-rousing tunes of "Hamilton" were our fellow companions on the drive. Kansas wheat and windmills gave way to mountain silhouettes and big-city traffic. And we arrived, ready to explore.
Day 1
The agenda included a selection of in-depth pre-conference workshops that ran for several hours, a keynote address, and a series of 30-minute presentations.
Like a deeply moved congregation, we've been inspired by the caliber of speakers like Gary Vaynerchuk, nodding in agreement to the various statistics that convey just how important digital is, and laughing our butts off at the hilarious Al Madrigal.
Here are some choice nuggets from Day 1:
"Design for context and everything else will follow." — Rebekah Cancino on creating a customer-focused experience
"It took up minutes of my life that I can't get back." — Rebekah Cancino on a poor user experience and customer loyalty
"You either have to make news or make friends." — Michael King on building awareness
"The best place to hide a dead body is page 2 of Google search results." — Arnie Kuen of Vertical Measures on content marketing
"85% of video content on Facebook is consumed in silence." — Nick Hoppe in his talk about Facebook native video dominating in 2016
"The market doesn't care, it moves." — Gary Vaynerchuk on the ever-changing digital world
"The difference between winning and losing is marketing for the year we're in." — Gary Vaynerchuk on keeping up with the changes
Day 2
Still riding a high from hobnobbing with marketing thought leaders and brains buzzing with ideas for our clients, we headed into the second (and final—sniff, sniff) day of the summit.
Here are some choice nuggets from Day 2:
"The biggest missed opportunity for content is playing it too safe." — Ann Handley's keynote on being bigger, braver, and bolder in marketing
"You must clearly communicate your value proposition within 10 seconds.... Users will read about 20% of the text on the average (web) page." — Cliff Seal on why people don't care about content and how to make them care
"In social media, there is no instant ROI." — Carlos Gil on how to use social media (including Snapchat) to drive engagement
"It's not always about creating new content. There are opportunities to create ROI on existing content." — Arnie Kuenn on SEO strategies for content marketing
"Make your customer the hero, not the damsel in distress." — Deana Goldasich on how to write effective case studies
"Eventually we're all going to be talking to our toasters." — Martin Weinberg on SEO, technology, and the need for effective content marketing
The conference was jam-packed and we are still processing some of the great takeaways. We wanted to share some of the excitement from being here!
If you're similarly intrigued, inspired, or just want to talk digital with some folks who thrive on this, get in touch.
---