How to Get Your Website Found on Google
by Julie Fiedler on December 29, 2022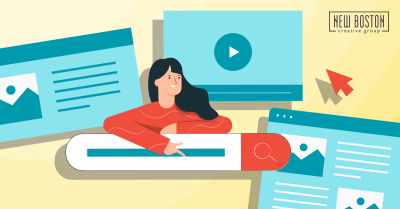 Where does your website appear in search results? Which terms and phrases does it show up for? What does your search listing look like? How you show up on search engines like Google, Bing, DuckDuckGo and others has to do with how well you position your website for them to find you.
What Is Search Engine Optimization (SEO)?
SEO is the process of managing the technology (think URL, javascript and image rendering) and content (think landing pages, blogs and meta data) of your website so search engines will be more likely to surface it in search engine result pages for certain queries. 
SEO is both a science and an art. And it continues to evolve. Let's take a look at what's behind SEO and some areas you can focus on to improve your website's ability to appear in search results.
Search Engine Algorithms
Search results are determined by algorithms, which are advanced calculations that evaluate your website's technology and content. Search engines run these algorithms to deliver results they think will be most useful for a given query (and by "think," we mean in the AI sense).
Search engines are constantly updating their algorithms, changing what aspects they weight for search and introducing new functionality. (The "thinking" changes in part due to AI machine learning, which advances with each new algorithm release.) At their core, algorithms are designed to put users first. Don't worry about chasing the latest algorithms. Instead, put your efforts into providing a great user experience for your website visitors.
How? Start by enhancing these technology and content areas to position your website to perform well in search.
Technology Best Practices for SEO
Technology drives website performance, which can make or break the user experience. Because search engines put an emphasis on the user experience, making sure your code is clean and your website functions well is an important aspect of SEO.
Website speed, mobile-friendliness and the hostname are three key technology elements:
The slower a website, the less time a user will spend on it. Do all elements of your website load in less than two seconds?
Over half of website visits are made through a mobile device. Is your site designed to function well on all devices?
There are multiple possible iterations of a website's URL. Is your live site secure (https) with other iterations redirecting to it?
Content Best Practices for SEO
Having clear and compelling content provides value to users. It used to be that you could put a bunch of keywords on a page and call it good. Not anymore. AI has gotten more sophisticated in understanding search intent and website context. In English, that means you have to provide meaningful information in a strategic way. No more nonsense!
Key term use, position and content levels are three key content elements:
Some terms are more relevant to your industry than others. Have you conducted key term research and evaluated your ranking terms against those of your competitors?
Where you put keywords on a webpage is just as important as which terms you incorporate. Do your headers, meta descriptions and formatted copy (think bulleted lists) contain appropriate key terms within the recommended character counts?
A current SEO trend is to favor pages with more information, which is evaluated in part by the number of words used. Do you maintain a blog where you can dive into important topics in a more meaningful way?
Getting Found in Local Search
Many businesses are focused regionally instead of nationally. If you're a local service provider, making sure your website and Google business listing are optimized for your area is important to being found in "near me" searches. (You know those searches: restaurants near me, dentists near me, etc.)
Sometimes additional strategies like paid search campaigns can help you get recognized, but it's always smart to make sure your organic (non-paid) SEO is as strong as it can be before you consider spending money on search ads.
SEO Next Steps
Not sure where to go from here? Contact us to see how we can help. Our digital marketing services include SEO audits, recommendations and implementation to get your website into tip-top shape for search!
We also have a guide to SEO that goes into more detail about how to research key terms and strategically incorporate them into your website. Don't worry, if this all seems overwhelming, we can do the heavy lifting for you.
---