HirePaths Receives Davey Awards Recognition for Online Video Series
by Molly Michal on November 29, 2022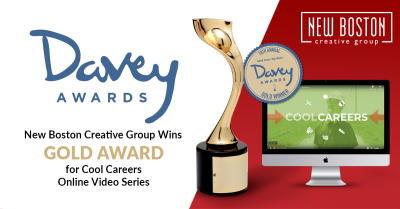 HirePaths, the brainchild of New Boston Creative Group LLC, is an educational campaign used to better align the careers kids are exposed to with jobs Kansas employers need to fill. The intent is to increase interest in high-demand jobs and the various paths young people can use to get the training to enter those fields. 
The HirePaths Cool Careers online video series recently won a Gold Award from the 18th Annual Davey Awards. The videos are geared toward introducing kids in elementary and middle schools to in-demand Kansas careers, such as cybersecurity analysts, plumbers, heavy equipment technicians and elementary teachers. The series, which can be viewed here, has been funded with an ESSER II grant from the Kansas State Department of Education.
The Davey Awards honor the finest creative work from the best small marketing shops, firms and companies worldwide. David defeated the mighty Goliath with a big idea and a little rock. The Davey Awards honor the achievement of the "creative Davids" whose strength comes from big ideas rather than big budgets. Winners were selected from over 2,000 entries.
"We're so thrilled that HirePaths is being recognized as a valuable, innovative tool for Kansans," said Kristin Brighton, co-owner of New Boston Creative Group. "One of the main goals of the program is to help eliminate the stigma that exists around choosing on-the-job training, an apprenticeship or technical college after high school. We are spreading the word that Kansas employers offer a spectrum of high-paying, high-demand careers that depend on different types of postsecondary training." 
Brighton pointed out that of the students who graduated from high school in 2020, less than 60% were enrolled in some sort of college within a year of their graduation. Of those, 35% attended a four-year university, and only 23% enrolled in a technical or community college.  
"To meet the needs of the Kansas economy, we need more young people entering the workforce with specific, high-demand job skills," Brighton said. "Whether they learn these skills before they graduate high school, become an apprentice to learn while they work, work for an employer that offers on-the-job training, or attend one of Kansas' many accredited colleges and universities, we hope through HirePaths we can get more young people on track to start a successful career and have a great life — right here in Kansas."
More information on the program and the Cool Careers videos can be found at hirepaths.com. Contact Kristin Brighton at kristin@newbostoncreative.com to learn more about how businesses and schools can get involved.  
---