Be Better: Now's the Time to Reassess Your Business
by Kristin Brighton on April 21, 2020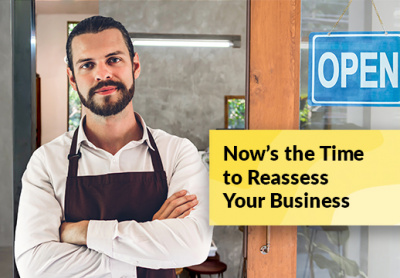 Time is perhaps the most precious commodity in a businessperson's life. While the world is scrambling to recover from the pandemic, business and nonprofit leaders hopefully have the resources and capacity to reset and innovate. It won't be easy and each situation will be unique.
In that spirit, I hope you can take some time to think innovatively about how your business will fit into the new reality of our world. Instead of fighting the inevitability of change, use this time as an opportunity to differentiate your business from your competition:
Set SMART goals (Specific, measurable, attainable, realistic, and time-bound) for getting back into the swing of things.
Setting official SMART goals for your first weeks back to regular operations will help everyone get focused and back into routine again. (This isn't the time for a stretch goal. This is the time you and your team need a win you can celebrate — together!)
Show your humanity.
Unlike other difficult economic times when different sectors might have struggled more than others, everyone is going to come out of this crisis hurting. Don't be afraid to be transparent. The honest human-interest stories we've seen about small businesses throughout this experience have really helped us understand the challenges of keeping the doors open and keeping our people employed. While we certainly want to look forward rather than back, this is a time none of us should be embarrassed to be open about the realities of what we've gone through and how we have had to adapt our business models to survive.  
Be community minded.
Do your part to help others in your community or industry rebuild. At whatever level, put yourself out there in a way that fits your company's overall character, expertise, mission and purpose. A few ideas:
Sponsor local or industry conferences, workshops or events
Send personal notes or small gifts of encouragement to cheer or inspire
Help other small businesses and nonprofits get back on their feet through discounts or payment plans to help with cash flow concerns
Tell community stories through your business social media feeds and emails
Share ways your audiences can help with efforts in the community
Allow employees to volunteer time to help with official initiatives
Publicly thank your community leaders for all they've done to help
Reassess your audience.
As your business has innovated to survive this challenge, you may have landed on some new services or methodologies that have widened (or narrowed) your target audience. Whenever your audience shifts, you need to study everything you can about them, so your marketing can be as strategic as possible. Assess what you know about your current audience, such as:
How did they learn about you to begin with?
What media do they regularly consume (and when)?
Do they use your website — and, if so, which sections or tools?
How do they want to hear from you — email, social media, phone calls, personal visits?
What are they most interested in about your product/service?
What do they know (or don't know) about you?
Why are they loyal to you (or why have they switched to you during this time)?
What misperceptions might they have about what you do or sell?
After you study your new audience, think about how what you've learned changes how you market yourself. If there's been a significant change, now's the time to develop a new strategic plan and specific tactics to guide your recovery. (If you aren't sure how to research your audience, we can help!)
Refine your messaging.
Consider how well-worded, consistent language used repeatedly throughout all of your communications efforts will springboard your business or organization forward. Some things to think about:
What makes your business or organization different from your competition?
Do you operate in a new way than you did before?
Do you offer new services or delivery methods?
Have you recently adopted a new method of communication or connected with a different audience?
Does your organization's origin story resonate with your audience in this new reality? How about your COVID-19 story? What did your business do to weather the storm?
Seek help from a pro.
Don't fall into the trap of bringing your marketing efforts in-house to save a few bucks. You've got a tiny window of time to grasp this post-crisis opportunity. Don't squander it by relying on DIY marketing. Do more and do better with the expertise of an outside consultant who can look objectively at your business and what you need to do next to get ahead. An experienced consultant can quickly assess your budget, capabilities, services, competitors, and time, and help develop the best plan for getting the work done — and done well.
Most importantly, try to use this time as a catalyst to innovate and grow. I hope you can be the organization that comes out of this stronger and better.
Let us help you figure out the best plan for moving forward. An initial consultation with New Boston Creative Group is always free, and usually comes with a cup of coffee and a creative exchange of ideas about one of our favorite topics: you and your business.
---