An Open Letter to Our Clients
by Lisa Sisley on March 12, 2020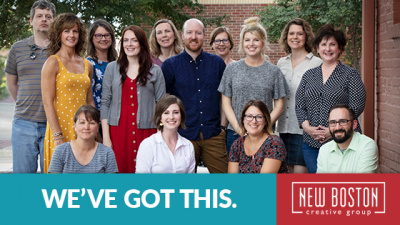 We've got this.
We just wanted you to know a few things about New Boston and how we work, and why we will keep doing what we do, no matter what happens with COVID-19 and all the disruptions it may cause to work and life. 
Some of you probably know that we've had remote staff members for quite some time. Julie, Stan and Addie all do what they do from a distance to MHK, and aren't even in Kansas, for that matter. 
Because of the nature of our work, we can do it from just about anywhere. A graphic designer can create a beautiful logo, a writer can develop punchy web content, a digital strategist can dig deep into Google Analytics and a web developer can design a compelling website from literally anywhere. And our folks do all these things, and many more!
At the same time, if you've worked with us, you know that all these people collaborate constantly. Our writers and digital strategists populate and optimize the websites that the developers and graphic designers have created, for instance. We're in each other's business all day, every day.
As a result, we've had systems and processes in place for years so all of us can work and communicate remotely and securely, any time we need to. This capability has really come in handy during bad weather, which happens every once in a while here in Kansas. Or sometimes we like to work at home for a little more peace and quiet to concentrate. It's easy and efficient for us to do that, thanks to the way we've set up our operation.
So, we just wanted you to know that it's all systems go from New Boston. If you want to meet in person, we'll go to you, or you're welcome here. If you want to meet via videoconference, cool, we're happy to. Conference calls are great as well. We're also very good at really long email threads. Whatever, it's all fine.
Basically, we just want you to know that we've been flexible in how we communicate, meet and do our work for years, and we hope our experience in rolling with it will serve you well. We can interact with you in any way that makes sense for you, and we'll continue to do the work you need on time, on budget and on point.
Take care, be safe, and let's all keep doing business.
Lisa, Kristin, Susan, Shawn, Tammy, Stan, Julie, Erin, Anne, Addie, Ken, Chris, Maike
---