What $20 and a Snowstorm Can Buy You on Facebook
by Kristin Brighton on February 21, 2014
A few weeks ago, our community was shut down for roughly two days as we dealt with a major winter snowstorm that resulted in more than a foot of snow. Schools, Kansas State University, and many private businesses closed. Which meant a LOT of people were home with unexpected free time on their hands. Since we, too, were in the same boat, I found myself spending a lot of time on social media — checking the weather feeds, commiserating with my friends about the forecast and children's cabin-fever behaviors, etc.
Coincidentally, that same week Facebook launched a movie app that pulled info from your feed and made this little movie about you. One person did it, then their friends all got notified, and it spread through everyone's networks like wildfire. Everyone had to know what THEIR movie would be like. The rapid proliferation through the social network was almost comical. It was the perfect storm. (Pun intended.)
So, I decided to follow suit and capitalize on my engaged audience of other equally bored and stuck-at-home parents, to introduce them to a program I have spent the past five years nurturing: Flint Hills Summer Fun Camp.  I helped develop this program in 2010 with some other parents to provide a fun, safe and therapeutic summer program to children with autism-spectrum disorders (ASD). Every year, the responsibility falls primarily on my shoulders to recruit children with ASD and typical peer models for the camp. This usually involves a time-intensive process of presentations to PTAs, social service organizations, parent groups and the like.
I've been swamped this spring and feeling guilty that I was letting the camp down by not pushing enrollments more, so I thought, "Let's see if I can get the same results using digital marketing."
Our camp Facebook page already had 260-ish followers, which isn't too bad for a local group that only caters to elementary kids in our immediate region. But I've noticed lately that Facebook's algorithm has made it harder and harder to get seen. Many of my posts promoting camp so far this year haven't reached even 100 people.
I decided to create a post introducing our camp to other families, and then boost it (i.e., pay money to make it reach more people). Facebook lets you target who sees your ad by lots of variables, but I focused on women ages 30 to 50 living within 25 miles of Manhattan, Kansas. I put in $20 for my budget, thinking that it was worth the gamble since you can't do any other form of advertising for anything remotely close to that budget.
Here's my post, from Feb. 4: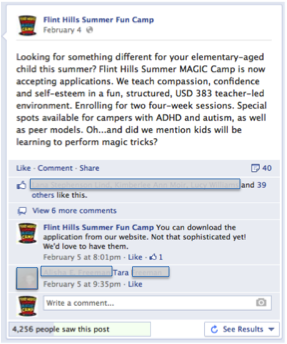 It took a couple of days to reach my budget. In that time, we reached 4,256 people and engaged 111, including 40 shares. We also got several questions, 90 click-throughs to the camp's website, and 15 new followers to our page.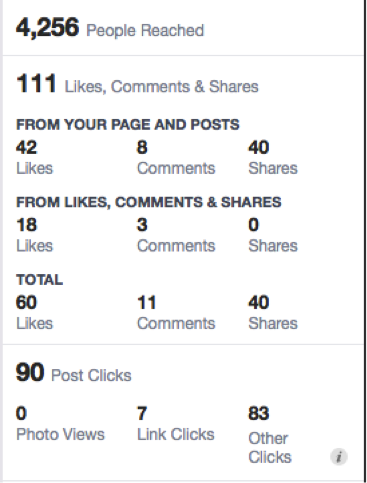 As you can see in the graph below, the paid search reached 2,817 people, all of whom were in my target demographic (women 30 to 50 who are most likely to be moms of elementary kids — sorry dads, not trying to be sexist, just targeted!). Many of them shared it with friends or tagged their friends so they would see the post, too. (The early dark orange bump was for an aborted attempt a few days earlier.)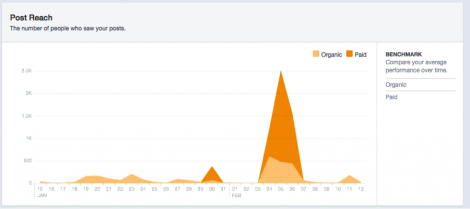 With so many shares, the post also gained a lot of boost organically. All-in-all, the post reached over 4,000 people within a week. If you do the math, that means I paid .0046 cents per person who saw the post.
Not bad. I don't yet know how many will convert into enrollments, but this certainly was an efficient way to reach a targeted group of people.
I think I'll do it again next week. Who knows — maybe it will snow?
---