5 Websites for Design Inspiration — Plus 6 More, Free!
by Shawn Dryden on July 18, 2022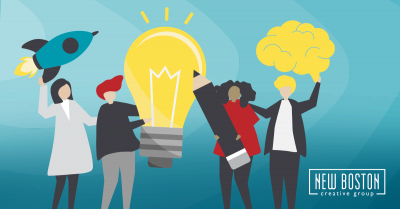 Kids these days have it soooo easy. When I was in college working on my degree in graphic design, we had to use books and magazines — printed on real paper from trees! — to get our inspiration. Nowadays a quick Google search pulls up 393 million results. I admit that number is a bit overwhelming, so after a thorough review I have pared that down to five to get you started, with some bonus links as a treat. Enjoy! 
Dribbble is a personal design showcase for artists to connect and share with other artists. You can follow specific creatives or companies, browse multiple design categories or search for specific keywords to find similar projects. As a standard in the design community, you'll find a lot of topnotch work here. 
Similar Bonus Sites
Behance is the number one spot for hosting online portfolios so its collection of work is enormous. Use their Discover page to see more of a curated selection.
Instagram is worth a mention here as well. You can follow your favorite designer, company or website to get inspiration directly in your feed. I recommend Brett Stenson, Tad Carpenter, and Michael Penda. 
Although packaging design-specific, Dieline is one of the best sites for industry news and innovation. In addition to showcasing the latest products, they post case studies and editorials to provide more in-depth context.
Similar Bonus Site
Want more packaging design but wish the name was more descriptive? Packaging of the World is what it says it is. Browse by country, category and even packaging material!
AIGA (American Institute of Graphic Arts) is the oldest and largest professional organization for design, and Eye on Design is their primary blog where they cover projects, history, artists and issues affecting the design community. A must-read for maintaining a pulse on the industry. 
Similar Bonus Site
Once an actual printed magazine, Print lives on in blog form. Here you'll find curated work and editorials celebrating everything design related.
Offering daily doses of design, art, illustration, photography and much more, Inspiration Grid lives up to its name. Dive into the design-specific section to be awash in logos, type, books, packaging, posters and more, from all over the world. 
Similar Bonus Site
It's easy to overlook Pinterest as a place just for recipes, clothing and décor ideas, but there are a lot of design pins shared as well. It's also a great place to store the projects and  inspiration you find on other sites.
Brand New is a daily blog that focuses solely on highlighting branding and logo redesigns. For free, you get the quick and dirty before and after shots, but for a small monthly fee you get in-depth editorials, case studies and supporting materials on each post.
Similar Bonus Site
Rising to prominence as a book series, Logo Lounge has a great website with everything found in the books and more. There are over 380,000 logos that you can search and sort through! There is one catch — it does require a paid membership, but it's worth the cost for the massive archive. 
I hope your creative juices are flowing already! But if you need more of a boost, I know a designer or two who can give you a hand. Reach out if you want help designing a logo, choosing a color scheme or just geeking out about design. 
---