Kansas Farm Food Connection
In 2015, Kansas Farm Food Connection — a group of 10 agriculture advocacy organizations — hired NBCG to conduct focus groups in three Kansas communities to determine how best to reach their target audience and engage them in a productive, ongoing dialogue about agriculture and food. 
We presented our findings and recommendations to the KFFC team. The data influenced the organization's ongoing marketing plan, which has resulted in NBCG designing and developing a new website, creating content, managing social media posting, running ad campaigns and coordinating special projects, all of which NBCG manages to this day. 
WEBSITE
In 2016, we worked with the KFFC team to determine design preferences, goals for the website and necessary pages and elements. Our team created an attractive, engaging website where users can easily find valuable information. The website is now a useful tool for KFFC to share both factual and anecdotal information about Kansas agriculture, tell real stories of Kansas farmers, share recipes and connect with their target audience. Since launching the website in late 2016, the number of website visitors has grown annually — resulting in a 999% increase from the first full year (2017) to 2020.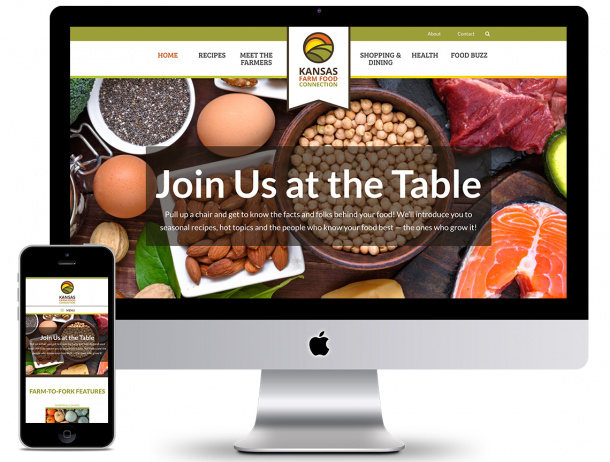 SOCIAL MEDIA AND DIGITAL MARKETING
We manage an ongoing digital marketing strategy to reach KFFC's audience and increase traffic to their website. As part of that effort, we coordinate KFFC's editorial calendar for Facebook, develop and manage targeted paid ad campaigns and write and design a monthly email newsletter. We monitor performance of these tactics monthly — sharing our findings with the client and using that data to direct future efforts. 
Awards
Hermes Creative Awards (Platinum, Silver)
Davey Awards (Silver)
Golden ARC (Honorable Mention)