Video Production Assistant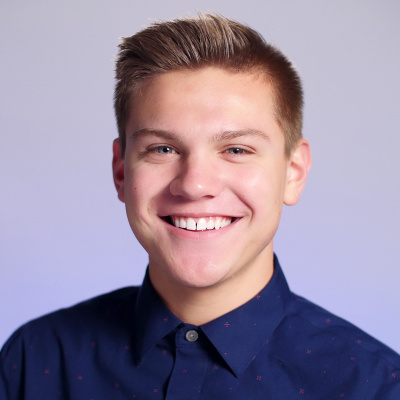 Rarely droning on about "bird's-eye views" and such, video production assistant and resident drone expert Lane Religa is a lover of peanut butter, Arizona, Frank Sinatra, architecture and basketball. If the multi-faceted Mr. Religa had his way, his dream title at NBCG would be Susan's boss. Sadly, not all dreams come true.
Partial to the scents that accompany warmer weather, Mr. Religa gives two thumbs down to clutter, particularly when people won't lift any finger, thumb or otherwise, to take care of it. ("If something's messy, just take the time to pick it up! There's a place for everything, and I don't like when things aren't in their place. I'm working on not getting so worked up about it.")
Mr. Religa's maniacal need for order is balanced by his super-human listening skills, never-failing kindness and impeccable comedic timing, all of which make him bearable to work with. While prone to opening the fridge and looking for nothing, he is a pro at finding his way around and has a real knack for directions. With an admiration for all things outdoorsy, Mr. Religa enjoys planting trees, watching sunsets and designing landscapes. He would (not shockingly) choose flight as his superpower.
W
o

uld You Rather...

Click the refresh icon to get another

Vacation in the mountains or at the beach? At the beach.

Have a personal chef or a housekeeper? Personal chef. I'm already pretty tidy and can keep the house clean by myself.

Explore outer space or the ocean? Outer space.

Have the right answer or a comforting word? The right answer.

Hang out with Lebron James or Leonardo DeCaprio? Lebron. He's a freak athlete. 

Be a famous singer or a famous actor? Singer, I've been a choir member.

Read the book or watch the movie? Watch the movie.

Ski or snowboard? Snowboard.

Go without cheese or go without bread? Without bread might be healthier...but I just couldn't do that, so without cheese.

Learn a new instrument or a new language? Language.
---