by Susan Religa on August 2, 2016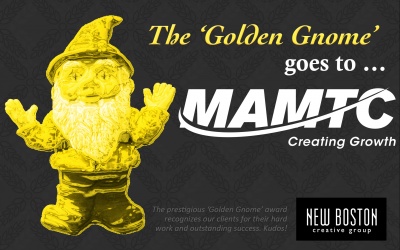 Picture an organization that helps manufacturers increase productivity, improve efficiency, create jobs, and grow their businesses. You might think the folks working there would be technical, dry, and even a little nerdy.
When it comes to the team at MAMTC (aka Mid-America Manufacturing Technology Center), you'd be wrong (well, mostly wrong!).
MAMTC is part of a national network of centers dedicated to helping manufacturers, but their team of experts is anything but dry and nerdy. They are passionate, funny, and smart as heck. Don't believe us? Just check out these blogs:
They know their stuff. But, even more impressive, they know what they don't know—which is marketing.
When Mark Chalfant took over as CEO of MAMTC over two years ago, he turned to New Boston Creative Group for help. The two organizations had worked together on small marketing projects, but Mark wanted more. He envisioned a strategic partnership team.
"I look at New Boston as our marketing team," he said. "They became a valued partner of our organization."
New Boston participated in strategic planning sessions and led a research and discovery process that served as the groundwork for the company's marketing plan. That plan captures the big picture goals as well as step-by-step priorities to reach those goals.
"We're using that as our marching orders," Mark said with a laugh. He refers to the document frequently to determine which projects to tackle next. To date the "marching orders" have included a new website, email newsletter, digital strategy, and social media presence—all with coordinated branding and messaging.
Another part of the plan was for MAMTC to start the aforementioned blogging. Mark approached that with caution because he wanted to make sure he did it right. ("I didn't want to do it half-assed," was his direct quote, but we don't want to be indelicate.)
He wanted everyone on his team to blog. That way, the work would be shared, and they could dig into their areas of expertise. But they are engineers and consultants—not writers. So, New Boston led a content strategy session with the MAMTC team to make sure everyone was prepared.
"People across the organization have contributed to it," Mark said, clearly pleased with the different viewpoints and voices. "Delegating the responsibility of writing has helped, and working through the New Boston team has made it timely and easier to do."
And they are seeing results in their website data:
Page Views are up 162%
Pages Viewed per Session are up 124%
Average Session Duration is up 81%
Bounce Rate is down 28%
On top of these impressive website statistics, they have been contacted by potential clients through the new website, which just launched in February.
The results are more than just numbers. Mark recounted a story from a few days before when he was talking with someone about the state of manufacturing in Kansas. The person shared a quote with Mark that was from Mark's own blog post!
"He didn't bring it up to impress me," Mark said. "He found it interesting and in the course of conversation it came up."
Together, MAMTC's manufacturing experts and New Boston's marketing experts make those successes and connections happen.
From website management to graphic design to digital marketing to content, Mark knows New Boston will help his organization shine.
"I really do appreciate the team there," he said. "Everybody knows who I am and is more than willing to go the extra mile."
---