Six Marketing Strategies for 2016
by Kristin Brighton on January 5, 2016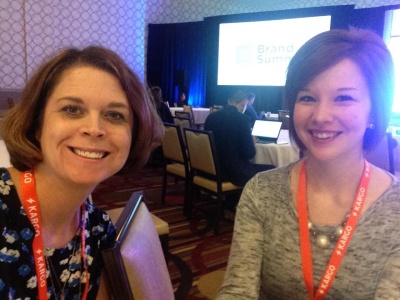 Happy New Year! I took some time off over the holidays, but as usually happens I spent much of that time reflecting on some of the past year and focusing on what I want to do better in the next. One late 2015 experience that was both a highlight and an inspiration was attending the inaugural Ad Age Brand Summit in Los Angeles.
I chose to attend this conference in hopes of gaining big ideas from big brands that I could bring back to New Boston. The summit did not disappoint. I left inspired and brimming with new ideas for our clients. But I also came away with a delightful discovery: Big brand marketing is becoming more local. More community focused. More genuine, and less glossy.  
Big brands are finally discovering the kind of work we do every day in small markets. Who'da thunk?
Trends have shifted away from the polish of Madison Avenue toward the authenticity of Main Street. The movement to be more relatable and personal has caused a lot of disruption for big brands, but this approach is the bread and butter of New Boston, simply because most our clients don't need a Hollywood-glitz budget to get great results for the bottom line.
So, as you and your own organizations gear up for 2016, I'd like to share my six big takeaways from the summit:
1. Fall in Love with Your Brand: Make Marketing Real and Personal
Marketing should be more personal — we should fall in love with brands we serve and make them more relatable, according to Dr. Jeetendr Sehdev, from University of Southern California.
Sehdev spoke about the power of celebrity and the rising influence of the self-made YouTube female celebrity, contending that "real people" celebrities connect with audiences because of their authenticity, and that we trust them more because they seem more like a friend than a superstar.
(Think Ree Drummond, Michelle Phan, Jen Hatmaker — everyday women who have become self-made mega stars by sharing their innermost thoughts on social media.)
I was reminded of a campaign we produced in 2013 for Meadowlark Hills. For this project I interviewed 40 residents and used the footage in a series of online videos and TV spots. This project allowed me the honor of turning these delightful and humble people into local celebrities, which was a joy to experience. (And the entire campaign cost less to produce than the cost of a single network primetime spot.) I fell in love with each and every one of my subjects, and the work reflected it.  
2. Marketing Is the New Social Work
I whole-heartedly agree with the insight of Lisa Mann of KIND, who said that marketing is the new social work. At New Boston, we strive to connect our clients' brands with the good works and leadership they contribute in their communities. We also invest much of our own time in efforts (both paid and pro bono) that promote and champion issues near and dear to our hearts and community. (Think chambers of commerce, civic organizations, food drives.) Community engagement not only gives greater meaning to brands, but it also helps the little guys differentiate themselves from national companies.
The case studies presented throughout the conference repeatedly illustrated Mann's point. If you're unfamiliar with AT&T's It Can Wait campaign, the Ad Council's Love Has No Labels, the John Lewis Christmas spots, or Red Nose Day, then check out these amazing projects. This powerful work leaves us with a good feeling about the brands that inspire us.  
3. When Marketing Provides Value, Audiences Will Tolerate Interruptions
Several presenters argued that if we can create value for — and connections with — audiences, they will accept digital interruption of their entertainment. If we do our jobs well, people will forget to skip the ad or use the ad blockers.
Joe Alexander's presentation of the "Unskippable" pre-roll ads The Martin Agency created for GEICO illustrates that people will not only endure, but enjoy pre-roll ads if the ad entertains or brings value. In the case of the GEICO campaign, the awkward humor seduces people into staring at the company's logo for a considerable length of time, because they want to know what happens next.
As New Boston has produced more and more video for social media, we've found people engage more (and put up with the interruption in their social space) with high-quality local spots that feature "real" people they know, love and trust. (This works for our self-promotion videos as well. It amazes me how often our sponsored social videos are shared and tagged — which gives us free organic reach!)
4. Focus on Ideas, Not Media
Target's Kristi Argyilan shared how they have moved away from focusing on paid, owned, earned, and shared strategies because such thinking put their team into artificial silos. Again, our 14-person company has been doing this right for a while now — we all collaborate and strategize together, every day. Integrating teams cross-functionally provides a seamless effort for clients, and creates an atmosphere of energy, growth and creativity.
Argyilan recommends focusing on the ideas first, then figuring out how to execute those ideas across platforms. Sometimes adding shiny new media tools into a toolbox can distract marketers from developing good creative. As New Boston gets ready to celebrate our 10th year of serving our clients, we find the basics of good storytelling and emotional connections are just as important as ever. 
5. Mobile First
Several panel discussions touched upon the concept of "mobile first" — the idea that we now need to plan for our messages to be consumed on mobile devices first, and then on desktops. It's only been a few years since the Responsive Revolution, and now every site we build is responsive by default, because most sites today are visited by more people on mobile devices than on desktops. The next leap is to focus on the importance of how a site functions on mobile before we think about full screen.
6. Importance of Localizing Content and Message
Big data has shown national brands the importance of customizing their message for local audiences. This is a disadvantage for the local marketer, because up to this point our ability to appeal to the needs of local audiences has been a big differentiator.   
During the summit, we met several mid-sized brands (SoulCycle, Top Golf) that have discovered how important it is to hire marketing staff in each community where they're located. If this becomes a universal trend for national brands, then how will the little guys compete? I believe local businesses will have to be even more passionate, more authentic, more personal, and more insightful than the big brands, and capitalize on the fact that everything we do doesn't have to be scrutinized by legal departments, focus groups, leadership teams, and bean counters.  
Those of us who have the privilege of working in small markets have the luxury of being lean, mean, and scrappy. We regularly conquer the challenge of turning around amazing work on a dime, usually in a ridiculously short time frame. We're experts at doing more with less. We're nimble, inventive, and "disruptive" every day.
Contact us to discuss how New Boston can help your business grow in 2016
---