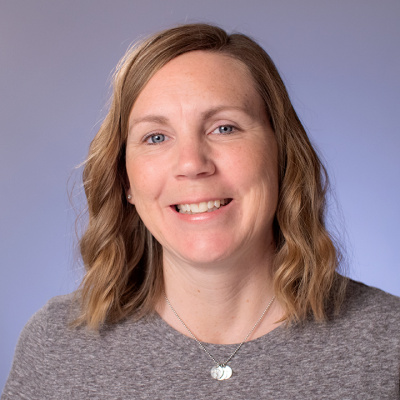 A fan of classic '80s movies and chai lattes, Chris Lohman is the friendly face that you'll see when you walk into New Boston's office. Her practical yet positive attitude makes Chris the go-to gal for anything coworkers or clients need.
A near-maniacal Garth Brooks fan, Chris once won tickets to a concert from a radio show. Upon receiving a call from the deejay, but erroneously assuming she was the subject of a practical joke, she almost hung up on him, until he asked, "What if I said you won the trip to New York City to see Garth Brooks?" to which Chris replied, "Shut the front door."
Chris was a cat person up until the day her family acquired Crosby, a mini golden doodle she describes as her "shadow." Her family and friends know that she loves any excuse to host a themed celebration — Oktoberfest, New Year's Eve, and even the Kentucky Derby, which Chris calls, "the greatest two minutes in sports."
She once accidentally flushed her keys down the toilet at a grocery store.  (Don't worry, she had a spare set — at her house 30 minutes down the road.)
Want more? You know you do.
Bonus random fact!
Laverne or Shirley: I prefer the Fonz.
Mountains or Ocean: Ocean. All of my favorite vacations have been to the beach (plus, I'm afraid of heights).
Choice Movie Quote: "Oh, shut your face!" – Love Actually
Superpower of Choice: Ability to clone myself to get more things done.
Rock, Paper, or Scissors: Rock, because it represents strength.
What She Is NOT: A coffee drinker. Able to roll her Rs. A fan of clutter. Lover of amusement park rides. Happy when snakes or spiders are around. Grumpy. Scared of strangers. A lover of huge crowds. Shy about celebrating holidays.
Favored Menu: Besides chocolate?
What She IS: Garth Brooks' #1 fan. A list-maker. Minimalist. A foodie. A mom. A cleaner. Fond of cotton candy and fair food. Always the party planner. Always the vacation planner. Control freak. Optimistic. Usually smiling. Goal-oriented. Sentimental. 
Bert or Ernie: Bert, because I like the color yellow.
Hobbies: Hoarding family photos and spending time with my friends and family.
---