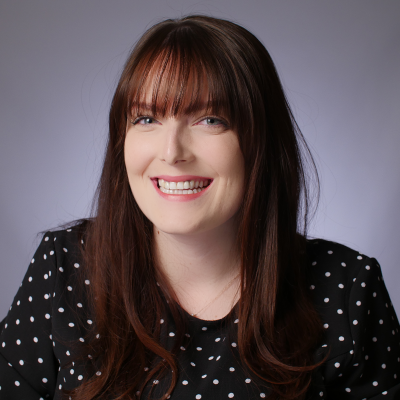 Ms. Bryant approves of grammatical rules, dirty martinis, and touching the outside of a plane before boarding. Her wordsmithing talent and positive attitude inspire her coworkers and clients.
Her childhood pet—a three-legged turtle named Stumpy—once latched onto her hand while she was building him a sand castle. Stumpy disappeared shortly after the incident; she suspects foul play.
She has no patience for overly inventive baby names or people who prop the new roll of toilet paper on top of its holder. Until taking a linguistics class in college, she believed "weekend" to be pronounced "week-yend." If given the opportunity, she would abandon her current life to become a free-spirited babe in a "friendly motorcycle gang."
Despite its reputation for tainted food, she remains a loyal member of the Chipotle Mexican Grill fan club, termed the "Chi-cult-le."
She once took a cardboard cutout of Harry Potter to prom.
And to top it all off, she has her Google Analytics Individual Qualification certification.
Want more? You know you do.
Bonus random fact!
Top Movie Pick: Pocahontas, because it inspired my passion for social justice at a young age.
Rock, Paper, or Scissors: Scissors is the only one I can ever think of.
TV Habits: Glee, Game of Thrones, The Bachelor, Doctor Who, Parks and Rec
Choice Movie Quote: "I like gruel." – Wiggins, Pocahontas
Laverne or Shirley: I'm too young for this question.
Other Jobs She'd Enjoy: Producer on The Bachelor so I can manipulate people into saying what I want.
What She Is NOT: Very superstitious. Fond of birds. Math-minded. A Hagrid fan. A wallflower. Addicted to Diet Coke (anymore). Able to ride a bike.
Who Would Play Her in a Movie: Kristen Stewart, because her vibe is most like me and she runs her fingers through her hair the same way I do.
Notable Quotes: "That's twice in two days I've mentioned serial killers and psychopaths. I promise I'm not one."
Sweet or Salty: Sweet, because I have 32 sweet teeth.
Superpower of Choice: Metamorphosis, because I would like to be able to change my appearance. Maybe into Beyoncé.
What She IS: Resilient. Skilled at piano playing. The life of the party. A proud dog mom. A Wildcat and a Gamecock. A self-described nerd. Fluent in Ubbi Dubbi. A collector of elephant statues. Able to pronounce "La Croix" correctly. Obsessed with Beyoncé.
Choice Song Lyric: "Wildflowers don't care where they grow." – Dolly Parton, "Wildflowers"
Sage Advice She's Been Given: "You don't have to eat poop to know that it tastes bad." – her friends
---