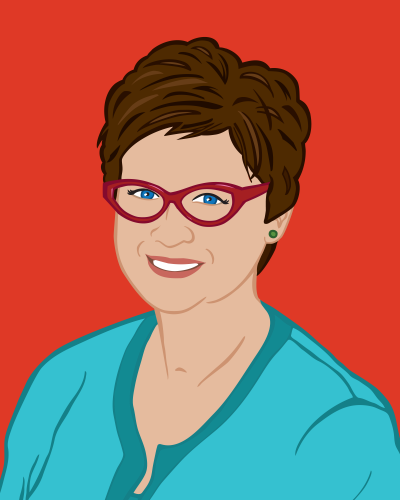 Ms. Washburn is a cupcake-baking rockstar who delights in brass instruments. Clients and co-workers marvel at her effective use of multicolored sticky notes and willingness to take on any task thrown her way. Meanwhile, she takes pleasure in whipping up costumes and is thrilled her daughters are theatre and music nuts like she is.
Among her pet peeves are people who have the audacity to park beneath "no parking" signs. She is also averse to putting away laundry and the smell of tuna salad.
Not primarily known as "the funny one," she refers to herself as "the comedian's arm candy" when with her husband — making her all the more proud when she shoots off a zinger of her own.
And, she's got her Google Analytics Individual Qualification certification, to boot!
Want more? You know you do.
Bonus random fact!
Preferred Smells: Western Kansas in the summer, citrus-coconut combo
Sweet or Salty: Yes. Can't have one without chasing it with the other.
Fave Movie: Mary Poppins, due to a ginormous crush on Dick Van Dyke
Recent Project Pride: A DIY kitchen remodel and super-cool costumes for "The Addams Family" musical production.
What She Is NOT: Afraid of DIY projects. A smoker. Fond of casseroles. A quick decision maker. A slow decision maker. Decisive. Opposed to a good Sousa march. Tattoo-free. A wallflower. Proficient at making right turns without a curb check.
Family Saying: "I wish I had that, and you had a wart on your butt." — no-nonsense grandmother's reply when a family members "wants" something
Laverne or Shirley: Laverne. She's twice the funny of Shirley.
Favored Menu: Kippers (especially on pizza), ribs and sauerkraut, beer-based cupcakes
What She IS: Bad at finishing DIY projects. A lip biter. Miss Ness County 1991. Owner of one "The Tubadours" CD. A Muggle. Able to recite the poem "Jabberwocky" by heart. An animated storyteller. Adventurous with paint colors. A former karate instructor.
Reading Preferences: Anything NOT on Oprah's list: "They're about nothing but misery."
---